What is MEPCO?
The Municipal Employer Pension Centre of Ontario (MEPCO) is a non-profit corporation that provides expert advice and resources to AMO's representatives on the OMERS Sponsors Corporation (SC) and Administration Corporation (AC) Boards. MEPCO was created in 2007 to ensure that AMO is meeting its statutory obligations as a sponsor of the OMERS Pension Plan.

Through MEPCO, municipal employers can pool resources and speak with one strong, well-informed voice. Individual municipal governments have little opportunity to directly influence decisions made by OMERS, yet OMERS decisions can have major local impacts. MEPCO helps to fill the gap.
What Does MEPCO do?
MEPCO brings the municipal employer perspective to OMERS-related decisions by:
Analyzing the impact of pension issues on municipal employers.
Evaluating every proposed Plan change.
Providing AMO's representatives to OMERS with advice, tools, professional actuarial and legal advice on Plan design, funding, growth and other matters.
Keeping MEPCO members informed by issuing regular updates.
Taking part in the selection process for AMO's SC and AC representatives.
About OMERS
The Ontario Municipal Employees Retirement System (OMERS) represents close to 1,000 employers and almost 500,000 active members, retirees and survivors. The Plan's long-term health is fundamental to the well-being of thousands of municipal employees.

In 2006, the Ontario Government created a new and independent OMERS governance model. The OMERS Sponsors Corporation now determines Plan design and contribution rate changes and the OMERS Administration Corporation manages the Plan's day to day operations, including investment strategy, plan valuation and pension benefit administration. AMO created MEPCO to provide municipal employers with support, advocacy and resources on OMERS matters that is equivalent to the level of support provided by other OMERS sponsor organizations.
Profiling Success: Approval of the OMERS Funding Management Strategy
In 2014, MEPCO and other employer Plan sponsors were instrumental in the approval of a new Primary Plan Funding Management Strategy (FMS). The FMS describes what will happen to benefits and contributions as the Plan moves through periods of funding deficit and surplus, and provides for a contribution rate cap and the establishment of a reserve fund.

MEPCO actively supported the creation of the FMS. It is a major positive step forward for OMERS employers and employees in managing budgets and moved OMERS closer to achieving a more sustainable, affordable and resilient pension Plan. The FMS reflects MEPCO's focus on flexibility in OMERS benefits, funding and investment policy to meet sustainability challenges.
Working toward a more sustainable OMERS Pension Plan
The Comprehensive Plan Review   
It's no secret that the OMERS Pension Plan faces challenges. Plan maturity, demographic changes and volatility in global financial markets all impact the Plan's health.

MEPCO strongly believes that changes are needed to address long-term funding challenges.

In 2018, OMERS began a Comprehensive Plan Review, which was intended to help OMERS decide what changes, if any, should be made to ensure that the Plan is sustainable and affordable now and in the future. The Review, the first of its kind since the Plan was founded more than 50 years ago, was a significant opportunity to improve sustainability.

Ultimately, the Sponsors Corporation (SC) Board did not achieve the two-thirds majority support needed to approve Plan changes that would improve sustainability. Instead, the SC voted to approve two changes that could increase costs for municipal employers and employees.

While the results of the Review were disappointing, MEPCO's work to improve Plan sustainability is far from over. The Board continues to call for common-sense changes that would improve Plan funding and sustainability. All Plan sponsors are responsible for sustainability and MEPCO believes that they should work together to protect Plan health for both employees and employers.
The Plan Faces Challenges
Plan Maturity
There are now fewer active members to support a growing group of retirees.

Demographic Changes and Longevity
People are living longer, so they spend more years retired. The Plan will have higher liabilities and higher pension costs as it pays out pensions for longer periods of time.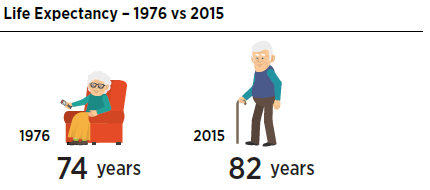 A Changing Workforce
OMERS active membership is likely to shrink over the next 25 years as factors such as technology, privatization and other forces impact employment trends. As the Plan matures, its liability grows. The Plan will face a $300 billion liability based on current projected costs.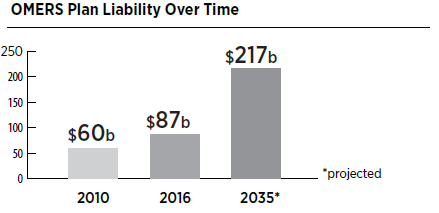 Market Volatility and Decreased Economic Growth
Economic growth is likely to decrease in developed countries as populations age, leading to lower expected return on investment.